YN30E drill machine
Release time:2021-11-30 click: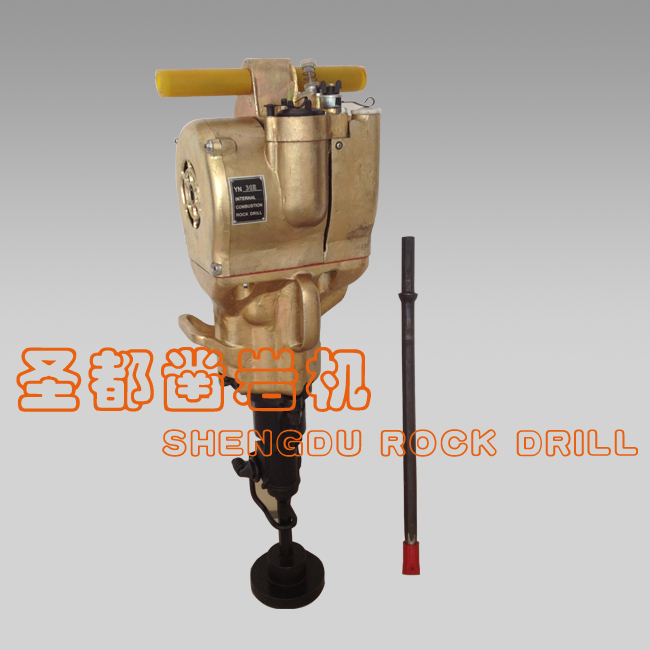 Advantages:
YN30E hand hold internal-combustion rock drill is a hand-rock drilling tool which integrates the small gasoline-engine,compressor and rock drill.
It can blow off the rock powder in the blasthole by the compressing air generated from itself.
Just 30kg weight for the main engine .
Easy to carry about.
Applicable for the areas of high mountains and of without power and wind pressure equipment,especially for those temporary projects with frequent movement.
Working on the rocks,available for vertical down drilling,horizontal drilling and up drilling with the angle of less than 45°.The max. vertical down drilling depth can be 6m.
Applications:
1. Applicable for rock drilling.if replace a few of the parts,it can also be used as a breaker and a rammer for various work of breaking,shovelling, excavating,splitting and ramming,etc.

2. Wide applicability. Regardless of the high mountains,flat grounds, extremely the hot area with the temperature of + 40℃ and bitter cold area of -40℃,it can work in good condition.
Technical specifications

Weight of the main engine

30kg

size

Length*width*height 760x335x235

Type of engine

Single cylinder,wind cooled,two- stroke gasoline-engine

Type of carburetor

Non carburetor float

Ignition system

Contactless ,Platinum contact

Exhaustion

185cm3

Rotating speed of engine with load (measured in five holes drilling)

2450-2900r/min

Idling speed of engine

≤2200r/min

Idling rotating speed of drill rods

180r/min

End of tool shank hex

22*108mm

Shock energy

≥20J

Drilling speed(average of five holes)

≥230-400mm/min

Max. elevation angle of drilling

45°

Max. drilling depth

≥6m

Tank capacity

≥1.65L

Oil consumption(in five holes drilling)

≤0.12L/m

Mixing proportion of gas and lubrication(by capacity)